9 Wellness-Based Summer Changes to Make to Your Lifestyle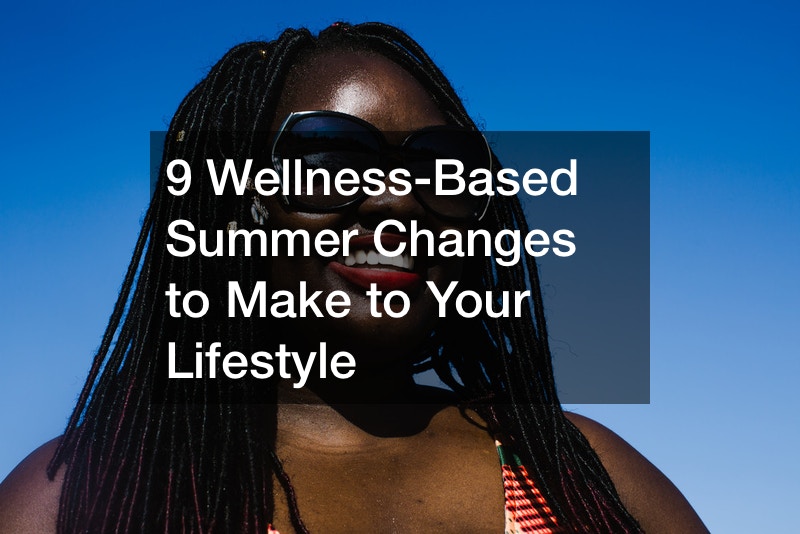 Summer is the perfect time to make changes to your lifestyle, with the warm weather acting as an incentive to create wellness changes that will prove useful not just for the short term but also for the long term. Whether you are interested in making a switch to healthier food, need to practice more mindfulness, or simply want to take some time to enjoy the comfort of family and friends, this article details some essential summer changes to make for a better lifestyle.
Be Mindful When Ordering Out
If you frequently prefer to take outs over home-cooked food, being mindful about your meal intake will be the first stage of summer changes to make for your wellness routine. For this, consider sticking to the following practices:
Start With Small Portions – Rather than getting larger-sized portions when ordering out, make it a point first to start small. Limiting your portion sizes will help you gauge how much to consume, with smaller servings helping you stop when you get full.
Limit Ordering Out When Hungry – If you get takeouts when hungry, you will likely consume more than you would have when on a full stomach. Before heading out to your go-to restaurant for your dinner, make it a point to take your regular meals throughout the day or get a snack beforehand to limit the amount of food you get. In addition to this, understand your motivation for ordering out and define whether you are eating for comfort or nutrition purposes. This ensures you only eat when your body requires it rather than when you feel emotionally inclined to, such as when dealing with stress.
Get Tested for Allergies
Even with summer ushering in clear skies and longer days to help you enjoy your hobbies, it also brings with it a host of unwanted triggers, most notably pollen and dust. Due to the frequent movements when traveling, you are also likely to come into contact with allergens that you may not have necessarily had when seated at the comfort of your home. To avoid such disturbances, consider consulting an allergy doctor for allergen tests. Some of the common tests you are likely to get include:
Skin Testing – Skin testing exposes your body to various allergens, either through a skin prick or scratch test. If your body displays any signs of itchiness, redness, or swelling, chances are you have intolerances to the specific items tested against. This makes it possible for you to avoid various food substances and triggers that cause inflammation in your body, with the most common being pollen, nuts, dairy, and eggs. With this in mind, you can structure your diet afresh, and lifestyle needs to suit foods and environments that work in your favor.
Blood Testing – Blood testing is another commonly utilized allergen test. For this test, a small sample of your blood is drawn, which is then tested against allergens that you may have concerns about. Blood testing will come in handy for people who cannot have skin testing, often due to psoriasis, eczema, and children who cannot handle pricks.
Create Lifestyle Goals
While having short-term summer changes will help you gear up for a better lifestyle, only a long-term goal will help you achieve longevity in your current changes. For an overall lifestyle change that will last through the years, consider using the following tips:
Define Your Goal Destination – Goal destinations refer to ambitions and end goals that you would like to have for the long term. These will act as a guide of where you want to go, with some examples being health wellness goals, financial goals, and even mental and emotional goals. Based on these, you can set your trajectory of where you want to be in the future and how to get there.
Get a Time Frame and Specify Each Goal – After defining your goal destination, set a time frame for each goal. This can take the shape of short-term goals, usually around two years, or long-term goals that often include five or more years. Based on these, specify how to achieve that goal. That could mean signing up for a fitness class or getting training on lifestyle techniques needed for a wellness coach.
Track Your Progress – Tracking your progress will be crucial when aiming at long-term summer changes to make. This means having a scheduled to-do list to help you break down your goals into daily, weekly, monthly, and yearly tasks. Based on each schedule, make action plans on how much you want to accomplish for each to-do list. An example can be the number of takeout orders you want to cut back on each week. At the end of this, have weekly reviews on how much you have accomplished while making adjustments in areas that you are lagging.
Manage Chronic Illness
Managing chronic illnesses also acts as another step for summer changes to make, with conditions such as diabetes often swept under the rag during the relaxed months of the year. Before taking a break from any medical conditions in need of attention, make it a point to utilize the following guide for improved chronic wellness:
Keep Track of Any Changes – Suppose you currently suffer from illnesses such as hypertension or heart failure that are prone to abrupt changes due to lifestyle factors such as stress or dietary restrictions. In that case, it is worth taking responsibility for your health. Make it a point to monitor heart rhythm changes, blood sugar levels, and your blood pressure. Home test kits can help with this and will go a long way in avoiding future emergencies.
Take Your Medications – The enormous pills that come with chronic illnesses can often seem like a hindrance, especially when out in public. Rather than pushing that afternoon pill to the side, remember the importance of each medication and the aftermath likely to result from a failed dose. For easy management of medications, plan out daily and weekly doses in advance to ensure you have each close by, whether you are at home or out and about.
Reach Out When You Need Help – Asking for help can be a daunting process, most notably when those around you have no proper medical expertise. Support groups can come in handy here, ensuring you stay positive during tough days. Medical professionals can also help when faced with challenges, providing the right information when you need additional checkups.
Take Time to Relax
When it comes to the most active time of the year, taking time to relax will likely be the last thing on your mind. It will especially prove tricky when you have a myriad of summer changes to make, with the occasional mental overload likely to kick in. For help with your relaxation routine, here are a few steps to consider implementing:
Get a Full Night's Sleep – With the longer days setting in, shorter nights also follow suit. Even with this, make it a point to stick to your regular night-time sleeping routine. This means getting at least 8 hours of sleep. As night hours approach, consider reducing your screen time and opt for calmer routines such as taking a bath or reading a book. Getting comfortable blinds to block off excess light in your bedroom and stocking up on comfortable pillows and mattresses will also go a long way in helping you set the tone for a proper night's sleep.
Take Breaks – Whether you prefer spending your summertime in the office or sweating it out in the gym, remember to take breaks. This can be as little as 15-minute breaks for every 2 hours you spend on the high-intensity activity.
Get Spa Days – Spa days will also come in handy when looking for summer changes to make, acting as a useful tool in helping you recharge. For your spa day, consider signing up for a facial which comes with the benefit of clearer, youthful skin. A massage therapist consultation will also come in handy for your day off, helping you eliminate any build-up tension in your body.
Drink Less Alcohol
Contrary to popular belief, less is more when it comes to alcohol. To get the best out of your wellness lifestyle, ensure you cut back on your night-time visits to your favorite craft beer spot. In addition to this, make it a point to replace your glass of wine with a refreshing glass of lemon tea during your weekend family gatherings. If, however, you still prefer indulging in a glass or two of your best wine, try timing yourself. This can mean drinking a single glass over a 45-minute talk with your friend, with the option to extend this to an hour. By doing this, you get accustomed to slowing sips over time, allowing you to take less alcohol as time goes by.
Make Movement a Priority
Creating a list of summer changes to make also needs to incorporate movement, with as little as 10-minute walks providing enough physical benefit for the long term. To help you get started, here are some tips to consider incorporating:
Walk to the Next Bust Stop – Rather than waiting at your usual stop to catch the bus, consider walking to your next bus stop. A 20-minute walk can substitute a gym workout session, helping you get in your cardio for the day while also allowing you to engage your muscles.
Schedule Your Workouts – While looking for extra summer changes to make, consider planning your workout sessions in advance. Monthly schedules can help with this, helping you get mentally prepared for each session. Start with small movements such as stretches as you work your way up to mid-level and intense workouts. Swimming pool services scheduling will come in handy here, allowing you to get your exercise during low traffic hours.
Cook at Home More Often
Cooking at home also acts as another essential add-on for a healthy lifestyle, which means adapting to a new routine. To help ease your way into this, here are a few essential tips to consider using:
Start With Simple Meals – If you are not a trained chef, trying to prepare gourmet meals will certainly prove challenging. Start small with one-pot meals and sheet pan recipes that you can cook on a minimal timeframe. If you have no recollection of any easy family recipes, online platforms will be your go-to, with most food enthusiasts often posting easy to make home meals.
Stock Your Pantry with the Essentials – If you are looking for extra inspiration for summer changes to make in your diet, begin with your pantry. Stock essentials such as spices, grains, and pasta that you can prepare in your professional cast iron cookware. In addition to this, get ingredients that are specific to your favorite meals, acting as an added incentive when you need to prepare your go-to comfort food.
Grow Your Own Food
The last tip to consider for your summer changes to make will be growing your own food. Vegetable gardening will come in handy for this, elevating your wellness journey even further. To help this, consider the following gardening tricks:
Find the Perfect Spot – Plants need the right mix of sunlight and water to thrive, factors that will require you to pick the right spot in your backyard. Pick an area with both of these conditions to help you get the best out of your garden rather than dark corners that will result in stunted plant growth.
Plan Ahead – While some plants take a few weeks to grow, others require longer reaching full maturity. Consider the growth periods for each of your preferences to ensure you have enough produce to last you through the short term and long term without having to turn to the grocery store for purchases.
Grow What You Love – Consider growing some of your must-haves ingredients for your recipes, with a few examples to get you started being carrots, radishes, cucumbers, rosemary, and collard greens. By introducing your favorite kitchen essentials to your garden, you will likely keep up with your watering needs as well as the proper maintenance practices to get the best of your supplies.
Sticking to a wellness lifestyle routine will not be an overnight process but one that comes with incremental changes throughout the year. Starting with a list of summer changes to make is the first approach that means creating the right goals, maintaining healthy habits, and keeping your movement at a steady pace. Other listed changes will also work hand in hand with these, so make it a point to tick each off your list as the summer progresses.
---
---