10 Healthy Foods From Around The World To Try Right Now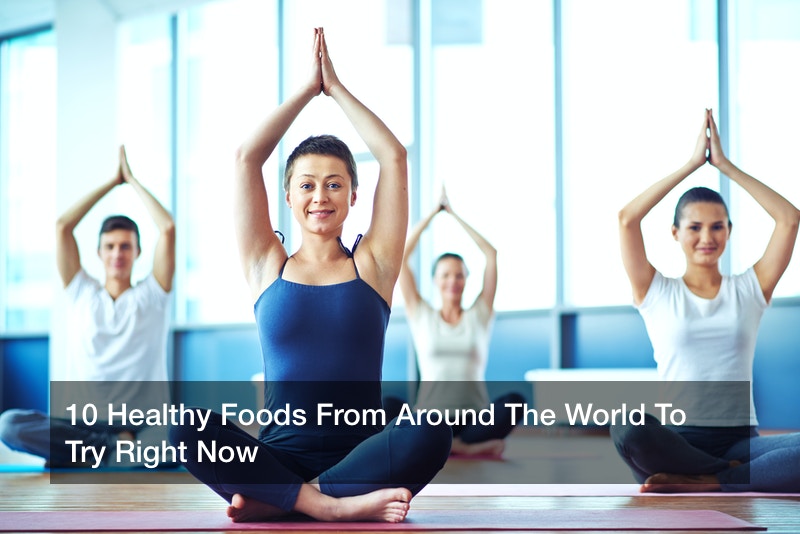 Food is often one of the pillars of a country's culture. The right dish can bring people together, fuel their bodies with healthy nutrients, and pass down values from generation to generation. If you've never traveled the world, though, how are you supposed to find these recipes?
There are certain places in the world where you can get a taste of culture from different restaurants. There are more than 660,000 restaurants in the United States. Some of these restaurants service Mexican cuisine, Chinese food, Thai food, and other dishes from across the world.
The good news is that many of these dishes are relatively easy to make at home and are healthy. More health care agencies are encouraging us to eat healthier, so making global dishes at home is a good way to try something new while also enriching your diet. So, where are you supposed to start? If you want to broaden your recipe book and make healthier meals, here are 10 healthy foods from around the world you should try soon.
From Mexico: Low-Carb Fish Taco Bowl
When discussing healthy foods from around the world, you have to look at this take on a popular Mexican recipe. There are some Mexican dishes that go pretty heavy on the carbs and cheese, however, this recipe makes adjustments so that you can enjoy the dish without feeling guilty afterward.
This recipe takes out the taco wraps and instead has you put all the ingredients into a bowl filled with vegetables. For this recipe, you'll need 10 ounces of white fish (cod is popular for fish taco recipes), green or red cabbage, tomato, onion, avocado, olive oil, Tex-Mex dressing, lime and cilantro. With this recipe, you'll get a high protein and low-fat food (the white fish) while getting other essential nutrients from the vegetables. To get the full recipe, visit Diet Doctor's low-carb taco page.
While this is a healthy recipe you may want to try as soon as possible, you may want to make it at home. Local Mexican restaurants may have a version of this recipe, but it's not guaranteed. If you want to go out to eat though, your research and see if there are any restaurants that have wholesale Mexican food and have this healthy recipe on the menu.
From Japan: Sushi
Japanese food is typically considered healthy. Some of the staples of the Japanese diet include fish, vegetables, and a small portion of rice. A popular Japanese food that's one of the top healthy foods from around the world is sushi. Sushi is a food that consists of rice that's seasoned with vinegar, raw fish, and an assortment of vegetables. Sushi can also be made with other forms of seafood, such as shrimp.
There are different kinds of sushi you can get. You can get raw fish with rice wrapped in a seaweed casing, or you could get something like a California roll. If you don't like raw fish, you can also get sushi that has cooked fish in it. Even if you don't like fish at all, you could get a shrimp tempura roll or even a vegetarian sushi dish.
Sushi is considered a healthy dish because it's low in carbs, high in protein, low in fat, and is packed with healthy vitamins. However, if you're trying a new kind of sushi, read the ingredients before you try it. There may be something it in that you're allergic to and you could have a reaction. If you're out to eat and trying it for the first time, make a note of where the nearest emergency care center is just in case a reaction occurs.
From Vietnam: Lamb Shanks With Sweet Potatoes
There are some healthy foods from around the world that sound so delicious that it's hard to believe they're healthy. This is the case for this Vietnamese dish. This Asian cuisine is packed with flavor and will leave you feeling full.
You'll need a number of ingredients for this recipe, including lamb, onions, root ginger, red chilies, garlic, and sweet potatoes. These foods all have health benefits, especially the lamb and sweet potatoes. Lamb is high in protein, full of vitamins, and relatively lean. Sweet potatoes are a good source of fiber and vitamins and minerals such as vitamin c, calcium and iron. When combined, these foods create a healthy recipe that you may make over and over again. To get the full recipe, go to BBC's good food pages.
From India: Indian Butternut Squash Curry
There are Indian dishes that incorporate healthy foods from around the world, and this one is especially delicious and nutritious. It's also a vegetarian dish that you can freeze and save for later.
The recipe calls for a number of ingredients, including brown basmati rice, butternut squash, onion, tomato, chickpeas, mild curry paste, and fat-free Greek yogurt. The butternut squash is low in calories and high in nutrients like vitamin A and potassium. Eating butternut squash can also help lead to weight loss as part of a well-balanced diet. Chickpeas are also high in fiber and protein and can be a good substitution for meat. The full recipe can also be found on BBC.
From Italy: Shrimp Scampi With Zucchini Noodles
Many Italian dishes are made with healthy foods from around the world, including fresh seafood. Shrimp scampi is an Italian dish that's typically made with shrimp and pasta. However, if you're trying to cut down on carbohydrates, you can switch out the pasta with zucchini noodles.
Making shrimp scampi is pretty simple. You'll need ingredients such as shrimp, extra-virgin olive oil, butter, garlic, white wine, lemon, zucchini, and parsley. Fresh shrimp would be best for the recipe, however, if you can't get it fresh you can usually find it in the frozen foods section of your grocery store. You can either make the zucchini noodles on your own or buy them pre-made.
When prepared correctly, this dish can be beneficial for your health. Shrimp is a good source of protein, is packed with a lot of omega-3 fatty acids, and is low in saturated fat. Zucchini also contains a lot of essential vitamins and minerals such as vitamin C and potassium. Zucchini noodles don't have as many carbs as regular pasta, so incorporating them into the recipe will help you make the meal lighter and healthier. To get the recipe, visit the shrimp scampi recipe on the Food Network.
From Greece: Mediterranean Orzo Salad
When talking about healthy foods from around the world, you can't forget about food from Greece. Greece is one of the countries that follow the Mediterranean diet, which is considered one of the healthiest diets in the world. A Mediterranean diet consists of eating vegetables, fruits and healthy fats daily. It also promotes eating fish and poultry, but limits the consumption of dairy and red meat. The diet is mostly plant-based and limits the intake of processed food. You should try to make these recipes with as much fresh produce and ingredients as you can, rather than make it from something that has a long shelf life. Food basket delivery options can be a great way to get fresh food without leaving the house. The fresher, the better.
If you want to try a recipe from the Mediterranean diet, you can try making Greek orzo salad. This dish is made with orzo pasta, chickpeas, cucumbers, and roasted red peppers, along with herbs like dried oregano and mint for taste. The recipe incorporates a lot of vegetables and herbs that will add great flavor to the dish, and the chickpeas will give you a healthy dose of protein. If you want the full recipe, A Couple Cooks has a great option.
From France: Ratatouille
Ratatouille is a French dish that's made with healthy foods from around the world. It's a stew that is full of vitamin-rich vegetables. It's low in calories but is filling, which makes it a great recipe choice if you're trying to eat healthier.
Ratatouille contains quite a few ingredients, including vegetables, olive oil, herbs, and spices. You'll need veggies like eggplant, diced tomatoes, bell peppers, and zucchini. For herbs, you'll need thyme and basil, and for spices, you can use paprika and cayenne pepper. Plant-based dishes like this are good for your overall health, and if you put in the right amount of herbs and spices, you'll create a dish that's both healthy and savory. If you want to try to make ratatouille, you can follow Healthy Recipes Blogs online.
From England: Lighter Beef & Potato Pies
One of the classic British dishes is the meat and potato pie. It's made with meat, potatoes, and vegetables like carrots, onions, celery, and peas. Once all the prep work is done, it's thrown into a small pastry case and cooked as a small pie. This is a hearty English recipe, but it can be made healthier with some adjustments.
For starters, you could replace the potatoes with mashed cauliflower. Cauliflower has become a popular substitute for potatoes in dishes since it's low in carbohydrates. You could also replace the beef with lean turkey. You could also opt to get low-fat pastries or make gluten-free pastries yourself. Even if you don't want to make any changes, you eat this high-protein and vegetable-rich dish in moderation. To get the recipe, BBC has a great option.
From Ireland: Healthy Corned Beef & Cabbage
One of the most traditional meals you can find in Ireland is corned beef and cabbage. If you want to try it, but are concerned it may be too high in sodium, there is a healthy alternative recipe you can make.
This recipe calls for ingredients like skirt steak, baby potatoes, carrots, and cabbage. It also calls for spices like dry mustard, light salt, pepper, and fresh dill. By using more spices and herbs, you can limit the amount of salt that's in the dish. You can also make the dish healthier by making sure you have a lean cut of skirt steak. If you want to limit the carbohydrates, you can replace the potatoes with a healthier vegetable. If you opt to make the substitutions and eat the recommended portion size, this meal could leave you feeling full without feeling guilty. If you want to check out the recipe, Eating Well has a great option online.
From Israel: Israeli Salad
This recipe from Israel is packed with healthy foods from around the world. It's light, has a lot of flavor, and can be served as a side dish or part of a main course. Israeli salad is also simple to make and doesn't take a lot of time to prepare.
For this recipe, you'll need tomatoes, bell peppers, green onions, cucumbers, garlic, lemon juice, olive oil, parsley and mint. The vegetables in this dish have many health benefits. Bell peppers are high in vitamin C and also have fiber and iron in them. Cucumbers are low in calories, high in antioxidants, and contain a lot of water, which means they'll help your body stay hydrated. When these vegetables are tossed together with lemon juice and olive oil (which contains healthy monounsaturated fats), you get a light dish that is nutritious. To get the full recipe, check out All Recipes.
There are so many healthy foods from around the world that are delicious and easy to make. You may want to try every dish on this list, but before you do, make sure you know what goes into each meal. If you have a food allergy, you don't want to risk anything that could send you to the hospital. There are health care plans that can help you if you fall into this situation, but be sure you check the ingredients before making the dish so you don't run into any issues.
Exposing yourself to healthy new foods from around the world can be incredibly beneficial. You'll learn about new cultures and try something you may never have had before. Plus, if you decide to visit one of these places in the future, you'll know what to eat once you're there. Trying something new can be intimidating, but it could be well worth it in the end.
---
---