How to Take On Opening Your Own Restaurant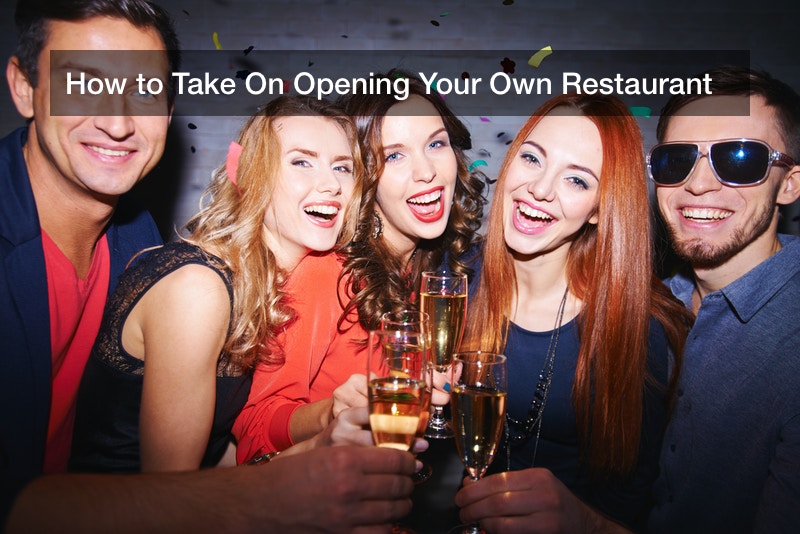 Have you always dreamed of opening a restaurant? Or perhaps you realized late in life that food service was your true passion. No matter why you want to open your own restaurant, you are not alone.
Considering that there are more than 660,000 restaurants in the U.S., starting your own restaurant is one of the most common entrepreneurial endeavors that people take on. Opening your own business of any kind is nerve-wracking, and that is especially true with a restaurant. The margin for error and the margin for profit in food service are both razor-thin. So, it can be daunting to look at the numbers and realize that it might not work out. So, really doing your research and learning how to establish a restaurant is the best thing you can do to succeed.
No matter what your level of experience is or how well established you are in food service; if you're passionate enough you can learn how to establish a restaurant of your own.
Today we will discuss a few key points on how to establish a restaurant with relative ease.
Find a Concept or Niche and a Location to Match
If your ears are open in the food industry in 2020 you will hear a lot of people talking about concept restaurants." The term "work concept," doesn't mean that you have to open a hipster wine bar that charges $16 for a piece of toast. "Concept" refers to picking a demographic and then catering your business to that market.
To successfully pick a demographic, you have to look at the location and the market that you will be operating in. If there are six taco places in your town, it would be smart to consider an alternative food style. Look at the market and ask yourself, "what does this area need most?" On the other hand, if you are already married to a particular type of restaurant, then find a location that would make good use of your type of cuisine.
Formulate a Business Plan
The next step in how to establish a restaurant is about taking a hard look at the model for your business and its viability within the market you wish to operate. This is basically the blueprint for how you would ideally run your establishment.
If this step is taken seriously and done well, it can set your restaurant up for success. A well-formulated business plan will help you visualize the next steps that go into actually opening your business
It's easiest to break the business plan into a few different steps
Elevator pitch
This is basically what you want to be memorized. It includes a basic description of what kind of restaurant you will be opening. It should be less than a minute and easily comprehendible.
Who are you going into business with?
In other words, what will the legal structure of your business be? There are three basic types of structures that entrepreneurs research when learning how to establish a restaurant. There are many more business structures that work for different people, however, today we will be looking at just three.
Sole owner or proprietor: For those who can manage running their business all on their own- i.e., they have the money and resources to back up their vision- this is the easiest and most basic option. If your operation is smaller in scale, like a food truck or a walk up stand, and you don't need to take on lots of employees, this is the option for you.
In this case, the permitting you need to operate under your name is a DBA or a "doing business as."
Partnership or joint-proprietorship: When you are going into business with one or more other people this is called a partnership. Keep in mind, not all partnerships are equal. Typically, experienced entrepreneurs will try to steer you away from settling on this business model. It typically leaves first-time restaurant owners open to huge liability issues. However, if you have a business partner that you really mesh with and see yourself working with positively in the long-term this can work. Often times partnerships consist of people with differing skillsets and financing, that can make things easier on the start-up end.
Limited Liability Corporation: A limited liability corporation, or an LLC, offers the business owner some of the liability benefits of a larger business while also offering the legal and tax flexibility of a sole ownership. This is widely considered to be the best way to go if your operation is going to have any type of room to grow. LLCs allow a business to start small and grow within their means without taking significant risks along the way
Establish your demographic
This is a huge element of how to establish a restaurant successfully, hence this being the second mention of exactly this. Who will be your target audience? Establish this, and market specially to that audience.
Evaluate the competition in your area
If the market you will be operating in is saturated, it is especially important to understand what makes your restaurant different than the others in the area.
If you don't know where you want your restaurant to be, that comes before looking at the competition.
Pick a marketing plan
If you're not a marketing expert you may need one for this step in how to establish a restaurant. It's important for you to have a plan in place for advertising. You want potential new customers to have no problem finding your new restaurant.
Look at all expenses
This step in how to establish a restaurant might just be the most important of all. Look at the type of restaurant that you will be running and evaluate the recurring expenses that you will incur just to keep the doors open, these include anything from rent on the building to large appliance maintenance all the way to air conditioning services.
Recurring expenses are of course going to be a constant. However, you will also want to look at some of the potential one-time expenses you may have. These single purchases include the necessary kitchen equipment. To help deter costly expenses later on, you can always hire a commercial electrical contractor to perform an energy audit of your building. Installing eco-friendly appliances and lighting can lower your bill little by little in the long-term.
When will it take to begin to profit?
Look at potential revenue and potential startup costs and evaluate when your restaurant will begin to turn a profit if everything goes according to plan. Of course, there's no way of knowing when or if things will go wrong. However, it's still important to evaluate when you will actually be making money.
Keep in mind that many restaurants take up to five years to really start turning a profit, so don't be discouraged when you have a dinner service, or a bad week of dinner services.
What are you working towards?
This is often the final step in a business plan. If you really want to know how to establish a restaurant and have it be successful you must have long term goals. So, is this a restaurant that you hope to sell once it becomes successful? Are you trying to franchise? Or has it always been your life-long goal to run a small local joint that you will play an integral part in for the rest of your life?
No matter what your goals are, put them in your business plan. And remember that your goal may change somewhere down the road and that completely fine.
Acquire a Tax ID Number and Register Your Business Locally
Tax preparation is never fun, so buckle up for this one. Your tax ID number is essentially a social security number a business, it is how the IRS keeps tabs on your restaurant. Very very small sole ownerships are essentially the only businesses that can get by without a tax ID.
Unfortunately, for the rest of us who wish to keep on a large number of employees will have to buck up and go over to the IRS for our tax ID.
After you've straightened out the tax details with the IRS you will want to register your business for state, town, or county taxes that you may be responsible for.
Permits Permits Permits
Oh, and licenses too. If you don't know already, you will realize very quickly just how strict the Food and Drug Administration is. Restaurants are subject to incredibly tight guidelines on food prep and safety. After registering for all the appropriate local licenses your restaurant will be subject to yearly health inspections.
You will need permits from the health department, insurance for the restaurant, licenses to serve food, and another separate license to serve alcohol.
Zoning
Zoning issues can become very cumbersome for the potential entrepreneur; however, it is one of the crucial things to understand if you are to learn how to establish a restaurant. If you are taking over a building that is already zoned to be a restaurant that's easy, however, if you are doing any sort of construction it gets tricky, that's especially true if you are converting a building that was zoned for something else.
If you are doing any type of serious building you will need an industrial construction contractor and a commercial electrical contractor, these people will help you set up the building so it is zoned property, and remains up to code.
Building Preparations
As far as building preparations, there are quite a few things to consider when learning how to establish a restaurant.
Property Services
After you've dealt with the electrical company and gotten the lights on in your building there are other semi-regular or recurring expenses that you will encounter as you open a restaurant. Before you open your doors, you will want to have the names and numbers of many local contractors. Things will inevitably break in your building that you don't know how to fix.
You will want to hire landscapers, a commercial electrical contractor, and local plumbing services. Relying on a local service will ensure that you're helping bolster your local economy! It also means that you'll be working with people who have experience in your area which is key if you're establishing a restaurant in an area with harder water.
On top of that, you will also want to think about researching roofing companies or roofing contractors, your building might be up to code now, but you will want to keep it that way with reliable and regular maintenance.
Other Niche Contracting Services to Consider
Once your business has been established and you're making some money you might want to think about other contracting services that might class the place up a little bit. For example, let's just say you have a parking lot that's adjacent to the road, you might want to look into getting some custom fencing installed.
Funding Your Venture
There's no two ways about it. Starting a restaurant is expensive. So, you will likely need some financial aid in this project.
There are a few different types of small business loans that might suit your restaurant's need, you will need to consult a financial advisor in order to determine what type of financing is best for your restaurant's size and operating costs. You might also want to consider the costs of maintaining the outside of the building through landscapers, especially if you have outdoor seating areas.
What you should take away from this guide is that starting a restaurant is no easy feat. You have to look for buildings, file for tax information, and reach out to roofing contractors when necessary, and that's before you even get to the food. However, if you are diligent about covering all your bases and doing the necessary heavy lifting ahead of time starting a restaurant can be a very viable option for a budding entrepreneur or passionate chef.
No matter what your motivation is for chasing your dream of owning your own restaurant, there are unlimited resources for you. The restaurant of your dreams is right around the corner, chase after that dream.
---
---